Welcome to Global MedTech Advocacy and Advisory Forum (GMAAF)
This is a MedTech initiative being formalized at New Delhi to cater to aspirations and advocacy & advisory needs of MedTech fraternity encompassing leading medical technology manufacturing companies as well as start-ups. This initiative is being led by healthcare activists, MedTech volunteers and experts with common goal-global and national equitable and affordable MedTech and healthcare. We strongly believe that affordable and accessible MedTech would immensely better the quality healthcare delivery outreach.
GMAAF aims to be the   bridge among all stakeholders to enable better healthcare delivery through advanced and affordable MedTech.
GMAAF shall contribute to, coordinate, collaborate and facilitate the development of great MedTech ecosystem through its advocacy and advisory approach.
Global MedTech Cooperation, Collaboration and Democratization to the last mile, to ensure affordable health security of populations.
Keep building up and strengthening data centric and driven operation platform to identify and proactively act upon existing/evolving/widening gaps in MedTech ecosystem at various levels and facilitate the closure thereof.
Working towards equitable and affordable healthcare for national and global communities by associating with national and global healthcare civil society organizations.
Issuing periodic strategic advisories for MedTech ecosystem for better coordination and integration, resource and outcome optimization and sustainability.
More than 25 Years
of Experience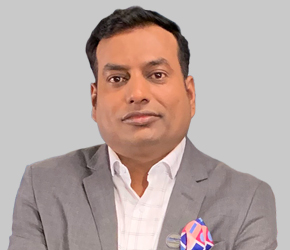 Afzal Kamal
He is CEO  of Advanced Media Group, Chief Editor of Medgate Today, MD of Medgate TV and Digital Media  ,General Secretary of Voice of Healthcare, and  Chairman of Integrated  Global Healthcare Mission (IGHM ).
He is currently founding Global MedTech Advocacy and Advisory Forum to further the cause of Global Equitable and Affordable MedTech and Healthcare.
He has been leading Medgate Today to new excellence benchmarks for last 12 years. He has been spearheading the healthcare and MedTech policy advocacy for last 7 years.
His long cherished Vision is Healthcare without Boundary in true spirit of Indian tradition of  Vasudhaiv Kutambakkam
Manish Rastogi
He has been healthcare activist and strategist for many years.
In past he immensely contributed policy inputs   to different Healthcare policy think tanks.
Along with long time industry colleague  Mr Afzal Kamal, he is also involved in setting up operations of Global MedTech Advocacy and Advisory Forum.
He strongly wishes that current decade 2020-2030 should be known as Decade of Indian Healthcare Excellence He is working relentlessly and strategically with key stakeholders of healthcare to accomplish this mission.